Part 3 of 3: "Celebrating the Victory" – Lisa Matusiak of The Bacchus Inn Bed & Breakfast won the locally adapted "Chopped" cooking competition that took place on Thursday, September 15. The event was one of many Cape May Food & Wine Festival events taking place in Cape May from September 15-25, 2011.
After Lisa was named the victor, she was presented a BBQ accessory set in a wooden box that was inscribed "Cape May Chopped – September 15, 2011". Once the hand-shaking and congratulations were over, Lisa, John, their children, and several friends headed over to Lucky Bones Backwater Grill for a celebration dinner.
Soon after the event, many guests that came to stay at The Bacchus Inn had read about the event on-line and asked Lisa to cook her winning dish. She agreed to try and re-create the breakfast dish. It was well received and eventually became a regular in the late-summer/early-fall breakfast rotation. Perhaps the next time you stay at The Bacchus Inn B&B you will have the opportunity to try out Lisa's award-winning "Strawberry-Stuffed French Toast w/Crunchy Pretzel Topping and Chocolate-Bailey's Sauce"!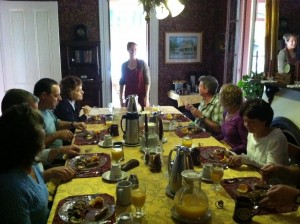 Tags: Bacchus Inn, Cape May Chopped, Cape May event, Cape May Historic Accommodations, Food & Wine Festival