Cape May
Cape May Beaches
Cape May NJ is a peninsular city, spectacularly situated at the southernmost point of the South Jersey Cape between the Delaware Bay and the Atlantic Ocean. From Ocean City NJ down to Cape May Point NJ, a 30 mile ribbon of sandy white beaches draws millions of visitors to Cape May's gentle surf, boardwalk fun, 600 plus Victorian style homes, and fabulous Jersey Shore Fishing. Cape May NJ is the gem of the South Jersey Cape and Bacchus Inn is located within walking distance of the best beaches and attractions of Cape May NJ.
Cape May Beaches embody picturesque, serene ocean beauty. A perpetual, cool breeze drifts over the white, sandy beaches offering enjoyment for the whole family. New Jersey Beaches are known for being nationwide leaders in beachgoer safety, and Cape May County Beaches maintain some of the highest standards in the nation for clean waters, ocean monitoring, and public notification.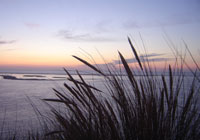 Bacchus Inn is ideally located between Cape May and West Cape May, offering convenience to attractions of both areas and the best of Cape May Beaches. Take a short stroll to Convention Hall Beach, Grant Avenue Beach, Windsor Avenue Beach, Congress Hall Beach, Broadway Beach, and Queen Street Beech; all located off Beach Avenue and the fantastic Cape May Promenade. The Promenade runs parallel with Beach Avenue, and its smooth pavement allows you to enjoy the beauty of the Beach Avenue Cape May Beaches without getting sandy! Enjoy a leisurely jog, bike, or evening stroll; at all times of the day, the Cape May Promenade is a refreshing experience. Bacchus Inn is .2 miles from Beach Avenue and its accompanying Cape May Beaches and only 3 miles from the Cape May Point Beaches and Cape May Point State Park.
Below, we have provided information about a few of Cape May's most popular beaches, aside from the Cape May Promenade beaches. Bacchus Inn is located just a stone's throw from the best of Cape May Beaches. Come stay at our premier Cape May Bed And Breakfast and enjoy the best of sandy fun, ocean beauty and warm accommodation.
Poverty Beach
Poverty Beach is located at the eastern end of Beach Avenue. Like many of the landmarks in the Cape May National Historic District, Poverty Beach enjoys a rich history. In the early 1900s, the Army Corps of Engineers converted the marshy inlet of the eastern end of Cape May into an accessible, enjoyable beach district. The inlet was dredged and the deposits were cast ashore creating new, developable land. Poverty Beach is the least accessible in town and hence a favorite for surfers. With fast, hollow waves breaking steep and close to the shore, it has spectacular swells for intermediate and advanced surfers. The Poverty Beach area remained largely unpopulated through the 1900s, as the center of Cape May to the west entertained the burgeoning influx of tourists. Today, Poverty Beach remains a wildlife sanctuary and a favorite for bird watchers. Birds such as Common Eider, King Eider, Razorbill, Black-legged Kittiwake, Harlequin Duck and Purple Sandpiper are sighted often.

Cove Beach
On the opposite western end of Beach Avenue and the Cape May Promenade, lies Cove Beach. This Cape May Beach is another favorite among surfers and kayakers. With a dynamic, vacillating shoreline shifting from fifty to a hundred yards within weeks, Cove Beach wafts up and exposes loads of shells for the eager shell lover. Located at the southwestern edge of Cape May, Cove Beach offers an unobstructed, breathtaking view of the sunset and Cape May Lighthouse. Cove Beach features hard sand and a broad, at times 50 feet deep, beach which begins at the southernmost jetty in Cape May and continues to the Bunker in Cape May Point State Park. Beach walkers, joggers, and bike riders relish this 2.3 round-trip route. If you so choose, the Cape May Point Lighthouse provides a longer round-trip track. Unlike Poverty Beach, the water is shallower along Cove Beach with gentler waves for beginner surfers and kayakers. Anglers will delight in the Cove's beautiful and bountiful waters, as do dolphins! Keep your eye to the sea and you may witness Cape May dolphins' playful and familial behavior.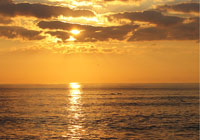 Sunset Beach
Cape May's Sunset Beach and neighboring Higbee Beach to the north are located around the horn of Cape May Point, past the Cape May Point State Park and Lighthouse, on the harbored waters of Delaware Bay. Sunset Beach is famous for its sunken warship Atlantus, "Cape May Diamonds," and amazing sunsets. Follow Sunset Blvd from Cape May to the west and find your very own "Cape May Diamond!" "Cape May Diamonds" are quartz crystals, usually clear or light pink in color, that originate from a Pennsylvania mountain. After falling into the Delaware River near Delaware Water Gap, the crystals drift through fast currents, past Trenton and Philadelphia, being smoothed and polished by obstacles along the way, until they reach Delaware Bay. This process happens over hundreds and thousands of years, producing smooth quartz that resemble a diamond. The WWI ship Atlantus was constructed of concrete due to a shortage of steel during the war but was soon decommissioned because of her weight and slow speed. Plans were made in 1926 to intentionally sink Atlantus at the opening of the Cape May Canal as a breakwater for the canal's protection. During a storm on the Delaware Bay, the Atlantus broke free of the tug boats guiding it and washed a mile downstream and landed in the waters just off Sunset Beach. Today, Atlantus is half submerged just a few hundred feet offshore, and more than a spectacular sight, she diverts the Delaware Bay tides and brings the "Cape May Diamonds" to shore. Come search for you very own Cape May Diamond, courtesy of Atlantus!
Cape May Beaches are open from 10 am to 5 pm, 7 days a week. Beach tags are required for ages 12 and older from Memorial Day Through Mid-September. You can purchase daily, weekly or seasonal beach tags at the Information Booth on Washington Street Mall at Ocean Street, the Convention Hall at Beach Drive and Stockton Place and all beach entrances. Prices are per person and are currently $5 a day, $10 for 3 days, $13 for 8 days and $25 for the season. Beach wheel chairs are available for no additional charge.