Meet Us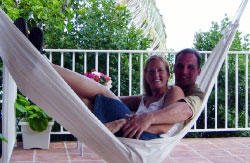 John and Lisa actually met in Cape May NJ in May of 2000. They were engaged on the beach of Cape May and got married here as well. Now they have made Cape May NJ where they live and work full-time.
Like most inn owners, John and Lisa took an indirect route to get to where they are now. Before becoming innkeepers, they had had very diverse careers; John in the wine and liquor business and Lisa a computer professional. Lisa first delved into innkeeping when they purchased the 710 Columbia property in April, 2002. Lisa ran the inn while John ran his wine and liquor store 75 minutes away. Then in July of 2004, John sold his store, bought the 719 Columbia property (formerly "The Brass Bed Inn") and moved down to Cape May with Lisa to run the 2 inns full-time.
John & Lisa's love for wine was the inspiration for naming the inn after the Roman god of wine, Bacchus. John enjoys sharing his knowledge of wine with guests at the inn. Click here for John's Wine Tasting Tips.