Winery
Cape May Winery
Cape May New Jersey is a scenic little seaside community located right on the Atlantic Ocean and the Delaware Bay. Visitors have been coming to this idyllic region for centuries and continue to flock to the beautifully restored Victorian era houses to enjoy a Cape May Vacation each year. Filled with tons of things to enjoy, Cape May New Jersey is one of the best places for a relaxing getaway with the ones you love. Learn more about Cape May Attractions and fun things to do in Cape May like Cape May Birding, the Cape May Beaches, visiting the Cape May Zoo, and the popular event, the Cape May Jazz Festival and browse the information on our site. Here we have included some information on the Cape May Winery and other Cape May Wineries in New Jersey that dot our seaside community. Looking for Cape May NJ Lodging for your next Cape May Vacation or perhaps for the Cape May Wine Weekend and Cape May Wine Festival? The Bacchus Inn, our Cape May Bed and Breakfast is one of the picturesque Cape May Bed and Breakfasts located inside a Victorian era mansion and guest house cottage. Named for the Roman god of wine, Bacchus; the son of Jupiter, our Cape May Bed and Breakfast celebrates wine and viticulture through wine tastings, our décor, and most of all our relaxing atmosphere. Learn more about the Cape May Winery, the Cape May Wine Festival and Cape May Wine Tours below.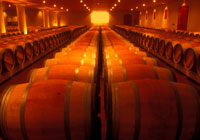 Nestled right on the seashore, Cape May Winery has operated a 15 acre vineyard for more than 10 years. Cape May's temperate climate and fertile soils are perfect for growing the award winning wines that Cape May Winery produces, and the vineyard is open for self guided tours as well. In the Cape May Winery tasting room you can sample the winery's different varieties including chardonnay, riesling, pino grigio, cabernet franc, cabernet sauvignon and merlot. Also, in the tasting room you can purchase wine by the glass, bottle, or case and peruse different gifts and wine novelties. Some visitors to the Cape May Winery bring a picnic or purchase a pre-made boxed lunch from the vineyard and eat outside on the upper level deck of the winery's two story showroom. In addition to tours and tastings, the Cape May Winery hosts Champagne Sundays where the winery opens and visitors are invited to tour the winery, enjoy gourmet cheese crackers and top off their afternoon with a glass of Cape May Sparkling Wine or a mimosa. Winemakers, Darren Hesington and Toby Craig invite you to stop by the Cape May Winery and discover one of the region's best kept secrets.
In addition to the Cape May Winery, there are a few other Wineries in New Jersey located in Cape May County. Turdo Vineyards and Natali Vineyards are also located near our Cape May Bed and Breakfast and the MAC Trolley (Mid-Atlantic Center for the Arts) runs Cape May Winery Tours to these locations. Tours are arranged in advance, call for more details.
Over two hundred years ago, Cape May's vintners were recognized by the Royal Society of the Arts in London for their fantastic success in producing the first bottles of fine, quality wines from the colonial lands. Today, Cape May honors its history with the Cape May Wine Weekend which takes place the second weekend in October. Gourmet chefs from various Cape May Restaurants  compete to create the best wine dinner, and vendors and vintners convene to sell their wares and celebrate all things from the vine! In addition to the wine festival, Cape May Wine Weekends have become quite popular in recent months as the area's fine Cape May Restaurants offer delicious four course wine dinners tailored specifically for each wine of the evening. Learn more about these upcoming events by contacting our Cape May Bed and Breakfast.
Hawk Haven Vineyard
Hawk Haven Vineyard is in Rio Grande, NJ, just outside Cape May. The Hawk Haven Vineyard was established in May of 2008. It has become a popular stop on any vacation getaway.. The Vineyard started with a small tasting room but has since expanded. It is one of the larger vineyards in the Cape May area with over 100 acres planted.
Turdo Vineyard
Turdo Vineyard is a family operated vineyard just over the bridge from Cape May City.  It is located just down the road from the Cape May Lewes Ferry off Sandman Blvd.  The family has put their hearts into this vineyard and it is a worthwhile spot to visit on your next vacation to Cape May.  You will feel welcomed immediately and linger before departing.  It is a small vineyard with several varietals but limited production.
Cape May Winery
MAC Trolley – Cape May Winery Tours
711 Town Bank Rd
Cape May, NJ 08204
609-884-1169
1048 Washington Street
Cape May, NJ 08204
609-884-5404
800-275-4278
HawK Haven Winery
Turdo Winery

600 S Railroad Ave
Rio Grande, NJ 08242609 -846-7347
3911 Bayshore Rd
North Cape May, NJ 08204
609-884-5404
800-275-4278
The Scheduled Wine Dinners at the Restaurant inside the Washington Inn
| | |
| --- | --- |
| April 19 | May 3 |
| Veneto – Northern Italy and Its Fantastic Wines | Riesling – the Other White Wine |
| September 27 | October 25 |
| More in the Bottle for Your Buck – Great Wines that Stretch Your Dollar | The France You Didn't Know – Wines That Make You Say Wow |
| November 22 | December 20 |
| Chile and Argentina | It's All in the Bubbles – Sparkling Wines for the Holidays |
| | |
| --- | --- |
| January 18 | February 14 |
| Cape May Winery – Comparative Tasting Right from the Barrel | Great Italian Wines |
| March 28 | April 18 |
| Wines from Australia and New Zealand | East Coast Wines |
| May 2 | |
| Summer Sippers | |
---
If you have any questions or would like more information, please contact us at 609-884-2129 or 866-844-2129, email us, or use our online request form.