Fishing
Cape May Fishing

Teeming with nearly 40 species of fish in crystal clean waters, Cape May Fishing provides some of the best sport fishing
available in the Northeast from March through December. Join a deep-sea charter cruise, one of the many Dinner Cruises Cape May, or reserve a private party boat and set off to catch Tuna, Marlin, Wahoo and Shark. For in-shore fishing from the surf, piers, jetties or modern boats, try your line for Mackerel, Drumfish, Weakfish, Flounder, Bluefish, Sea Bass and Tautog. Book your Cape May Lodging early during the Cape May Fishing seasons. Our Cape May Bed & Breakfast is located very close to the Cape May Harbor and local marinas, putting
you right in the middle of angler action!
Tournaments
Cape May and the Southern New Jersey coast are home to some of the most exciting salt water tournaments in the world. South Jersey Tournaments include the Viking/Ocean Showdown, the Mid-Atlantic $500,000, Mid-Atlantic Tuna Tournament, South Jersey Shark Tournament, South Jersey Big Bass Open and South Jersey/ASA Spring Striper Tournament. South Jersey Marina and Canyon Club Resort Marina will be hosting the 2009 Jersey Cape tournaments. South Jersey Marina also contains the largest charter and party boat fleet in southern New Jersey.
Mid-Atlantic $500,000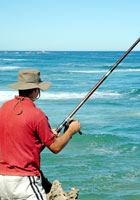 Since 1992, The Mid-Atlantic $500,000 has been the richest marlin and tuna tournament in the world, drawing big trophy
fisherman to the Cape May waters each August from around the world. The week-long tournament is a frenzy of million-dollar yachts owned by the sport fishing aristocracy, mixed with hopeful, local and daring fisherman willing to spend the $6,000 entry fee to cast their rods for a big payday. Last year, one man who hooked the heaviest white marlin walked away with over $800,000 in prize money. Offering prize money for five fish and $500,000 for the top catches of Tuna and Marlin, the MA500 is deep sea excitement up to the last minute of the last day. One year, the winning Blue Marlin was caught with 9
minutes to spare. A gamble of strategy and luck, fishermen must choose three of the five days to fish and head for the best waters off Cape May. Although the MA500 awards hefty prizes, it's the "calcuttas," or side bets, that account for up to $1
million in prizes. Even if you aren't participating in the tournament, it's a spectacle to behold. Catch sight of hundreds of big money cruisers, million-dollar yachts and Rolexes; the sport fishing elite relishing in the camaraderie of others who live to fish.
Cape May County Annual Fishing Tournament
The Cape May County Department of Tourism sponsors two fishing contests annually, the Cape May County Marlin Tournament, the longest consecutively running contest on the east coast, and the Cape May Annual Fishing Tournament. The Cape May County Annual Marlin Tournament runs from January 1-December 31, and unlike the MA500, does not require an entry fee or pre-registration. Instead, the Cape May County Annual Fishing Tournament requires participants to weigh in at one of 50 official weighmasters in Cape May County and place completed entry card in the U.S. mail. All fish are
recognized with a certificate and the top three catches of the year receive prizes.
South Jersey and Cape May Fishing Tournament Schedule
Jersey Cape Fishing Tournament
South Jersey Big Bass Open
Closes December 31, 2008
No entry fee, no pre-registration
1-800-227-2297
November 6-7, 2009
South Jersey Marina
Information: 609-884-2400
Entry: $300 per boat
South Jersey / ASA Spring Striper Tournament
South Jersey Shark Tournament
May 1-2, 2009
South Jersey Marina
Information: 609-884-2400
Entry: $300 per boat
June 11-14, 2009
$50,000 Monster Shark Bonus
Reservations: 609-884-2400
Entry: $525 per boat
Viking/Ocean Showdown
Mid-Atlantic Tuna Tournament
July 8-12, 2009
Pat Healey (Viking Yachts at 609-296-6000) or Ralph Leek (Ocean Yachts at 609-965-4616)
Entry: $450 per boat
July 15-18, 2009
Average Purse $250,000 plus!
Reservations: 609-884-2400
Entry: $750 per boat
Annual Mid-Atlantic $500,000
Cape May County Annual Marlin Tournament
August 16-21, 2008
Cape May NJ or Ocean City MD
2008 Total Purse: $1,811,950
Information: 609-884-2400
Entry: $6,000 per boat
No entry fee, no pre-registration
1-800-227-2297
Below is the Fishing Chart Cape May New Jersey of fish available throughout the year. Book your Fishing Cape May NJ trip today with one of the many Cape May Fishing Charters or contact local Cape May marinas about Fishing Pole Rentals Cape May NJ.
Jersey Shore Yearly Fishing Schedule
Inshore
Drumfish
mid-April through mid-June
Weakfish
May through mid-October
Flounder
June through mid-October
Tautog
April through mid-May and mid-September through November
Sea Bass
April through November
Bluefish
mid-April through November
Striped Bass
April and mid October through November
Shark
mid-April through November
Offshore
White Marlin
mid-July through mid-September
Blue Marlin
July through mid-October
Tuna
mid-June through October
Dolphin
mid-July through October
Mako Shark
mid-May through mid-July and mid-September through mid-October
Cape May Fishing Charters
South Jersey Marina
Canyon Club Resort Marina
1231 U.S. Highway 109
P.O. Box 641
Cape May, NJ
609-884-2400
900 Ocean Drive
Cape May, NJ 08204
Dockmaster: 609-884-0199
Business Office: 609-884-0188
Adam Bomb Sport Fishing Charters
Down Deep Sport Fishing
Inshore, Cape May Rips, Delaware Bay
Cape May, NJ
609-602-6834
Atlantic Ocean and Delaware Bay
Cape May, NJ
609-226-9122
Story Teller Charters
Tide Runner
Offshore and in shore trips
Cape May, NJ
609-558-5858
Saltwater fly fishing, light tackle
Cape May, NJ
609-884 6440
First Cast Sport Fishing
Legal Limit Charters
In shore and deep sea trips
Cape May, NJ
609- 352-8668
Spring and fall striped bass and drum
Cape May, NJ
609- 405-4591
Copacetic Sport Fishing
Gallant Lady Sport Fishing
In shore and off shore fishing
Cape May, NJ
609-770-4665
Gallant Lady departs from Harbor View Marina.
Marina address: 954 Ocean Drive, Cape May, NJ
JDM Charters
2 Columbia St.
Villas, NJ 08251
609-884-7754
Back Bay, Rips and Deep Sea Fishing
Cape May, NJ
609-231-9611
---
If you have any questions or would like more information, please contact us at 609-884-2129 or 866-844-2129,
email us
, or use our
online request form
.