Diamonds
Cape May Diamonds
Cape May New Jersey is a wonderful place to enjoy a relaxing vacation. Home to the Cape May Beaches including Cape May Beach and Sunset Beach New Jersey, this area is a wonderful place to visit year round. Sunset Beach New Jersey is very close to our Cape May B&B and is renowned for its infamous Cape May Diamonds, Cape May Lighthouse and Cape May Sunken Ship, the SS Atlantus. Guests staying in our Cape May Bed and Breakfast love searching for Cape May Diamonds along the secluded shoreline of Sunset Beach New Jersey. These clear, quartz crystal shells are easily found along Sunset Beach New Jersey as the beach has been preserved with no shoreline construction or buildings. Learn more about Cape May Diamonds and the story behind them.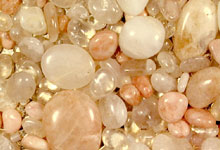 The Cape May Diamonds are not actually real diamonds, however the translucent pebbles were thought to have been used as a valuable currency in Kechemeche Indian culture, and today they are readily found in the sandy shores of the Cape May Beaches like Sunset Beach New Jersey. They have a unique formation that scientists believe takes thousands of years to create. The source of the Cape May Diamonds is not a massive stone rock or found in a location deep within the sea, it is actually the Delaware River. Pure crystal quartz erodes and breaks off in the Delaware River, and the river's swift stream carries the stones some 200 miles to the ocean to areas located near Cape May New Jersey. Along the way, the stones are tumbled and smoothed out; a process that generally takes thousands of years before the stones reach the shores of Sunset Beach New Jersey. Visitors to Cape May like to stroll on scenic Sunset Beach New Jersey and look for Cape May Diamonds and other ancient sea treasures.
Sunset Beach New Jersey is located right near Cape May Point and the historic Cape May Inns. Our Cape May NJ B&B offers the best in Cape May Lodging and is nearby to the Attractions in Cape May and all of the things to do on your Cape May Vacation. When you visit Cape May NJ you can enjoy activities like touring the Cape May Winery, sightseeing aboard a Cape May Sightseeing Cruise, and Cape May Birding at places about the cape and at the Cape May Bird Observatory. We invite you to browse our site and learn more about our Cape May B&B, one of the best of the historic Cape May Inns.
---
If you have any questions or would like more information, please contact us at 609-884-2129 or 866-844-2129, email us, or use our online request form.