Zoo
Cape May Zoo
The Cape May Zoo is considered one of the best full-system parks in New Jersey. You can meet the beautiful Amur Siberian Tiger at the Cape May County Park & Zoo amidst other recreational opportunities. Enjoy playground areas, tennis, volleyball, baseball, nature walks, jogging and bike trails and fresh water fishing. In the Cape May Zoo you will find over 100 species of wildlife in natural, humane settings. Otters, tigers, bobcats, reindeer, zebra, goats and bears live in this well-maintained facility and favorite furry friends include the cougars Brustus and Tinkerbell, Matilda and Dundee the Wallabies, the Giraffe Jerome, Charlie the Camel, Fernando the Llama, and lots of playful monkeys!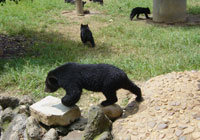 The Cape May Zoo proudly participates in the Species Survival Plan (SSP), established by the Association of Zoos and Aquariums (AZA). The Cape May Zoo works to ensure the survival of a number of threatened or endangered species including: Mountain bongo Antelope, Scimitar Oryx, Giraffe, Cheetah, Clouded Leopard, African Lion, Ocelot, Amur Tiger, Red Panda, Ring Tailed Lemur, Black & White Ruffed Lemur, Red Ruffed Lemur, Cotton Top, Golden Lion, Golden-Headed Lion, Rhinoceros Iguana, Swift Fox and Toucan.
Including the Cape May Zoo acreage, Cape May County Park features over 200 acres of beautiful scenery, outfitted with shaded areas for serene relaxation, benches, picnic pavilions, fishing ponds, outdoor fitness area and disc golf course to afford a day of memorable, family fun. Best of all, admission is free!
Located one mile north of Cape May Court House, on Route 9 and Crest Haven Road, the Cape May County Park & Zoo is open year-round, excluding Christmas day, seven days a week from 9 am to 5 pm. Bacchus Inn puts you just a short drive from the Cape May Zoo. Our Bed and Breakfast in Cape May NJ offers a unique and special experience with fabulous Cape May Rooms near the finest attractions in Cape May.
Contact the Cape May County Park office to reserve the beautiful wedding gazebo or one of the park's picnic areas.
Cape May County Park & Zoo Office
Open Monday through Friday
Closed Holidays and Weekends
Hours: 8:00 am – 3:00 pm
707 Route 9 North
Cape May Court House, NJ 08210
609-465-5271
---
If you have any questions or would like more information, please contact us at 609-884-2129 or 866-844-2129,
email us
, or use our
online request form
.