Cold Spring Village
Historic Cold Spring Village
Travel back in time amidst 22 acres of living history at Cold Spring Historic Village in Cape May New Jersey. Historic Cold Spring Village is an early American, open-air, living history museum that takes you back to the "age of homespun" life in the late 1700s to early 1800s. Experience the day-to-day activities of New Jersey colonists through an interactive, educational and family fun living exhibit. Gardens, farm sites, rustic buildings and quaint village lanes transport visitors to life as the colonists lived it. Historic actors are spread out in twenty-six historic buildings to educate children and families about our nation's rich heritage. Crafts, exhibits and games have been reliving South Jersey history for 25 year in Cold Spring Village.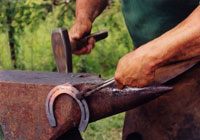 View the lost art of weaving in the Phillip Hand House, listen in on a lecture in the old school house, and be amazed at the difficult craft of a 19th Century blacksmith at the Finley Blacksmith Shop. Artisan crafts and tasty treats including pottery, brooms, ironware, sweets, home-made jams, jellies, and antiquated toys are on sale at the Village Country Store. The Museum Store also features unique gifts and historical information about Cold Spring Village. Grab lunch at the food stand or Cold Spring Village Restaurant or a sweet treat at the old fashioned Ice Cream Parlor or Bakery.
To complete the quiet, serene and old-world escape, you don't even have to worry about cars, to or within Cold Spring Village! The Cold Spring Village Visitor's Center is located adjacent to the Cold Spring Train Station, at the Village's Route 9 entrance, where trains arrive directly from downtown Cape May. If you do decide to drive, Cold Spring Village is only a five minute drive from Cape May and parking is ample at the village's two entrances: Seashore Road entrance (near the old Cold Spring Church) and Route 9 entrance. Cold Spring Village perfectly compliments your charming stay at Bacchus Inn Bed and Breakfast Cape May.
Entrance fees at Cold Spring Village are as follows; 3 to 12 years old: $6, children under 3: free, adults: $8, and seniors (62+): $7. Cold Spring Village also offers combination tickets with Cape May Lighthouse, Hereford Lighthouse, Naval Air Station Wildwood Museum, and Cape May Lewes Ferry.
Memorial Day through late June
Summers (June through Labor Day)
Days: Weekends
Days: Tuesday through Sunday
Hours: 10: 00 am to 4:30 pm
Hours: 10 am to 4:30 pm
*Cold Spring Historic Village in Cape May closes for the season in late September.
Historic Cold Spring Village
720 Route 9
Cape May, NJ 08204
Phone: 609-898-2300 (ex. 10)
Office hours: 9 am – 4:30 pm (Monday to Friday)
---
If you have any questions or would like more information, please contact us at 609-884-2129 or 866-844-2129, email us, or use our online request form.