Restaurants
Cape May Restaurants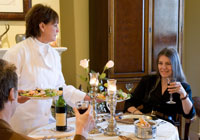 The Victorian charm of Cape May NJ is furthered by its spectacular restaurants within historic structures, along waterfront boardwalks and on quaint streets. Adding to Cape May's vacation get-a-way appeal, some of the best restaurants on the East Coast are located right around the corner from our charming Cape May Rooms at the Bacchus Inn. Many Cape May Restaurants are highly rated by Zagat's Restaurant Guide, offering the perfect dining atmosphere for celebrating an anniversary, a memorable night out with the family or nostalgic gathering with old friends.
Predictably, seafood is at its best in the Cape May County peninsula, but the seafood restaurants in Cape May and West Cape May are the premier in the region. Featuring fresh daily specials and delicious seafood cuisine, you don't want to miss the dining experiences of Cape May. Most of the Cape May Restaurants offer seafood but a few specialize in seafood cuisine, delighting the palate to fresh seafood caught in the Atlantic and Delaware Bay waters just off the Cape May Beaches.
Casual Dining
The Mad Batter
M Ocean

19 Jackson St.
609-884-5970
Beach Avenues
609-884-1925

Blue Pig Tavern
YB
Congress Hall
251 Beach Avenue
609-884-8422
314 Beach Ave
609-889-2009
Harbor View
Taco Cabillito
954 Ocean Drive
609-884-5444
429 Beach Ave
609-884-4800
Andreas Trattoria

Carney's
412 Bank St
609-884-0366
401 Beach Ave
609-884-4424
La Dona
Louisa's Cafe
31 Perry Street
609-884-5503
104 Jackson St
609-884-5882
Lucky Bones
McGlade's
1200 St Highway No 109
609-884-2663
722 Beach Ave
609-884-2614
Cape May Fish Market

Hemingway
408 Washington Street Mall
609-770-3790
1045 Beach Ave
609-884-5611
George's

 BackStreet
Beach Ave
609-884-6088
600 Park Blvd
609-884-7660
Elegant Dining
The Ebbitt
Room at the
Virginia Hotel

The
Washington Inn

25 Jackson St.
1-800-732-4236
801 Washington St.
609-884-5697
Panico

Peter Shields Inn & Restaurant
Broadway West Cape May
609-884-7170
1301 Beach Ave.
609-884-9090
800-355-6565
Union Park Dining Room
Sea Salt
727 Beach Ave.
Cape May, NJ 08204
609-884-8811
1035 Beach Ave
609-884-7000
Black Duck on
Sunset
Cucina Rosa
1 Sunset Blvd
609-898-0100
301 Washington St
609-898-9800
410 Bank St
La Verandah
410 Bank St
609-884-2127
107 Grant St
609-884-5868
Sapporo

Pier House
416 Broadway
609-600-1422
1317 Beach Ave
609-884-0300
Tisha's
714 Beach Ave
609-884-9119
Seafood Dining
Finn's

Cricket Club
142 Decatur Street
609-884-3449

106 Decatur Street
609-884-8363
The Lobster House
Copper Fish Restaurant
Fisherman's Wharf
609-884-8296
1246 Route 109 South
609-898-0354
Axelsson's Blue Claw Restaurant
Maison Bleue

991 Ocean Drive
South of Wildwood Crest Bridge
609-884-5878
311 Mansion St
609-435-5554
Oyster Bay
615 Layfayette St
609-884-2111
---
If you have any questions or would like more information, please contact us at 609-884-2129 or 866-844-2129, email us, or use our online request form.