Birding
Cape May Birding
Where else can you enjoy a lovely seashore getaway and get to see some of the world's most beautiful birds? Cape May New Jersey is a scenic little seashore town located on the Atlantic Ocean and the Delaware Bay, and it is a place that many migrant birds pass through and over throughout the year. As one of America's finest birding spots and the home of the Cape May Bird Observatory, Cape May Birding is one of the most popular activities visitors enjoy while on a Cape May Vacation. In fact, Cape May Birding is so popular that Cape May hosts the World Series of Birding every year here. Learn more about Cape May Birding tours, fun Cape May Birding Weekends and the World Series of Birding below. If you are visiting our charming little community for the World Series of Birding or just for a fun and relaxing Cape May Vacation, browse the rooms in our Cape May Bed and Breakfast; the best Cape May NJ Lodging option in the region.
The World Series of Birding is perhaps the most famous birding competition. Participants from around the country and several other countries come to Cape May New Jersey to compete to identify the greatest number of bird species in a 24 hour period. Taking place annually in mid-May, the event raises money for bird conservation organizations and is sponsored by the New Jersey Audubon Society. This event is one of the biggest events in Cape May and always brings many bird enthusiasts to the area.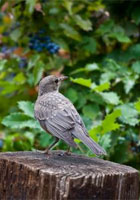 Another popular event for Cape May Birding is the birding tours and Cape May Birding workshops offered during the Cape May Autumn Weekend; Cape May's autumn weekend festival has occurred annually for more than 60 years and is typically held the last weekend in October. During this time, you can enjoy indoor and outdoor workshops with experienced birders, browse new scopes and optical tools at the Optics Showroom, and enjoy a Cape May Birding tour aboard the Cape May Lewes Ferry. In addition to this event, Cape May Birding trips are a regular attraction in the area. Captain Ginny Powell offers Salt Marsh Safari through the Cape May wetlands. Cape May Birding by Boat Tours aboard a roomy pontoon boat. These trips offer visitors a rare glimpse at shore birds that normally try to shy away and hide. On these Cape May Birding trips you may see neat rails, nesting terns, talkative gulls, and even an osprey or two. Reservations are required and trips are offered throughout the summer.
If you are planning to visit Cape May for a wonderful Cape May Vacation or to enjoy the Cape May Birding season and its many events, then enjoy the finest Cape May NJ Lodging and stay in our Cape May Bed and Breakfast. Located inside one of the picturesque Victorian era homes that dot the Cape May coastline, our Cape May Bed and Breakfast offers one of a kind Cape May NJ Lodging that will leave you feeling like you never left the comforts of home. Join us for a fantastic Cape May Vacation.
Cape May Bird Observatory hosted the World Series Of Birding(WSB) each year in May. There are three places that participants can win:
URNER STONE CUP (highest number total species)
STONE AWARD (2nd highest number total species)
STEARNS AWARD (3rd highest number total species)
Cape May gration Shorebird and Horseshoe crab festival is another annual May event at Cape May Point State Park.
For more info. Contact 609.884.2736
---
If you have any questions or would like more information, please contact us at 609-884-2129 or 866-844-2129, email us, or use our online request form.