Whale Watching
Whale Watching In Cape May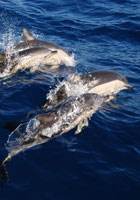 The beautiful, harbored waters of the Delaware Harbor attract schools of whales, dolphins, tuna, marlin and other sport fish, perfect for vessel watching trips and Cape May Fishing. Cape May NJ's saltwater, freshwater, and estuary eco systems are some of the most varied and fascinating on the East Coast. Marine and avian species attract thousands to the South Jersey Cape. The Atlantic Bottlenose Dolphins are always a favorite, playing with the boats and showing off for visitors from late April through mid-October, as are the Cape May Humpback Whales. Sometimes referred to as Eco-Tours, Cape May is home to numerous providers of marine mammal cruises. Bird watching is also among the popular Cape May Eco-Tours. Bird enthusiasts come to Cape May, known as a bird watching capital in North America, to watch dramatic offshore migrations of hawks, ospreys, bald eagles and other pelagic species. Choose an on-shore or off-shore cruise to fit you and your groups needs. Cape May also offers party cruises and other chartered trips to simply take in the beautiful waters of the cape with your friends and loved ones. Bacchus Inn offers Cape May Lodging in our beautiful Cape May Bed & Breakfast near the finest mammal watching excursions and other great Attractions In Cape May.
Cape May Whale Watching
Embark on an amazing whale and marine mammal watching cruise. The incredible Humpback Whale exhibits unique behaviors such as breaching, which makes Whale Watching in Cape May a hugely popular activity and one of the favored Attractions in Cape May. Humpbacks breach when they leap out of the water, exerting enough force to lift two-thirds of their body out of the water. The name "humpback" is derived from the high arch of their back display during breaching, thought to be a behavior of courtship. Humpbacks and Atlantic Bottlenose Dolphins have many entertaining and spectacular behaviors to delight curious onlookers, and most Whale Watching Cape May companies offer guarantees of marine mammal sightings, or you'll receive a free pass for another trip. Romantic, educational, fun, and exciting, you don't have to travel to Alaska for a Whale Watching experience of a lifetime. Cape May Whale Watching is an excellent year round activity in the harbored waters of southern New Jersey. Whale Watching in Cape May is best in early spring and late fall.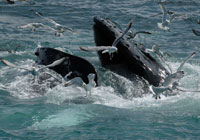 The Cape May Whale Watcher
The Cape May Whale Watcher is a 110 foot, 4 engine modern aluminum vessel; the largest and fastest marine mammal sighting cruiser in south New Jersey. Not a converted fishing boat, the Cape May Whale Watcher affords it passengers more time viewing marine mammals and less time riding. The Cape May Whale Watcher is USGC Certified to carry 290 passengers, making it the perfect vessel for large groups and features a climate controlled main salon, expanded under cover seating for over 150 passengers, upper deck seating for 90 passengers and over 350 feet of rail space to view the whales and dolphins.
Spirit of Cape May
The Spirit of Cape May sails out of Miss Chris Marina in Cape May New Jersey and is the newest Cape May vessel at an impressive 110 feet. Carrying 405 passengers, The Spirit of Cape May executes whale watching excursions and now offers Dinner Cruises Cape May and cocktail party cruises. For a one of a kind evening, book a dinner cruise on the Spirit of Cape May and enjoy food by Lucky Bones Backwater Grill. Enjoy wonderful food, dolphin and whale sightings and a beautiful sunset over Delaware Bay. The Spirit of Cape May is also available for receptions, corporate outings, wedding parties, reunions and other special events.
Cape May Whale Watch and Research Center
Offering cruises 7 days a week, Cape May Whale Watch and Research Center has three options: a 9:30am, 2 hour dolphin watching trip with breakfast included; their most popular 3 hour whale, bird and dolphin cruise departing at 1pm; and at 6pm, a 2 hour dolphin watch with pizza and hot dogs included. Become part of the research as you learn about the migration patterns, breaching, spotting techniques and scientific breeding and feeding specifics of the amazing humpback whales.
Miss Chris Marina and Fishing Center
Cape May Whale Watch and Research Center
Fishing charters on Miss Chris II, Sea Star III, Lady Chris
Marine mammal excursions on Cape May Whale Watcher and Spirit of Cape May
3rd Avenue & Wilson Drive
Cape May, NJ

Whale and Dolphin Watching:
609-602-9048
Fishing Charters:
609-884-3351, 800- 979-3370 or 212- 209-3370
Private charters:
800-786-5445 or 609-884-5445

1286 Wilson Drive
Cape May, NJ
609-898-0055
---
If you have any questions or would like more information, please contact us at 609-884-2129 or 866-844-2129,
email us
, or use our
online request form
.